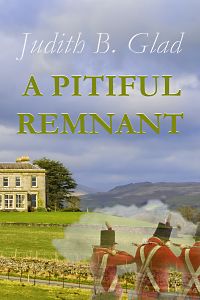 A marriage of convenience? How dreadfully inconvenient...
Lisanor needs a husband willing to marry her immediately, but he must agree to an outrageous condition. Guillemot is all but bankrupt and Clarence, the new marquess, has no choice but to marry for money. She is trained to manage a great estate, he to command a regiment, and neither is willing to give an inch. One of them must yield if they are to work together, to live together, perhaps even to love together.
"...a pure delight... But now I'm in danger of dropping spoilers, so I'll just mention what I liked best about A PITIFUL REMNANT—besides the hero and heroine. There is never a slow spot or any place where one would be tempted to skip ahead. Every word has value."~~Jane Bowers, Romance Reviews Today
Available now, from Uncial Press,
and at practically every ebookseller on the planet.
~*~
And here's a little Regency teaser, with my compliments:

Download your very own copy:

For Kindle. Click on hyperlink to download.

For epub Readers. Click on hyperlink to download.

If you prefer PDF. Click on hyperlink to download.


Sometimes one finds more in a garden than flowers. Love can flourish there, too...

~*~
Subscribe to my Low-Calorie-Now-And-Again newsletter.
and get the latest word about Upcoming Books,New Releases,
Good Things to eat,
and the occasional Useless Datum.
Or follow me on Facebook, where I post whenever I have something to say, which isn't every day.