Regency...Paranormal...but not in England
A man's warm skin is so much better than cold marble.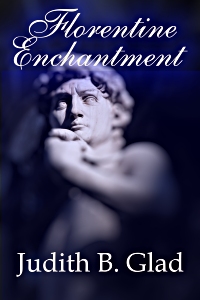 Orphaned in Florence, Lucy Raymond takes the only employment she can find, that of a castrato assistant to an art and antiquities dealer. But as she grows into womanhood, her masquerade chafes, for it allows none of the romance she craves.
In her loneliness she often visits the Piazza della Signoria, where she gazes at the magnificent sculptures and dreams impossible dreams. Until one day, when she is overcome by loneliness and the oppressive heat, she faints at the feet of an enormous sculpture, only to wake in the arms of its living embodiment.
Allowing herself to be seduced is the last thing Lucy should do. But Vido is warm and vital and the living image of David, so how can she resist?
Brought to you by Uncial Press.
Available at Amazon and KOBO,
and most other ebooksellers on Planet Earth.
---