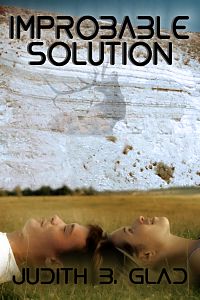 An Improbable Solution will change state in August
Uhh, that's chemist-speak for the act of changing into something different.
No, I'm not trying to impress you with my educatuion, but attempting to describe what happens when a story that's been languishing unread becomes an ebook again.
The reason Improbable Solution hasn't been available for a while is too long to go into here, but trust me, it's a good one, very personal, and is why I asked that it be unpublished a few years ago.
Drum roll please...
Visit Whiterock, Oregon...
... where peculiar happenings are taken for granted. Where Sally Carruthers is stuck, nursing a dying father. Where Gus Loring seeks forgetfulness. Where people are from, because there's nothing left to hold them there. Yet somehow it endures.
Perhaps there's something more to Whiterock than dusty streets, shabby buildings, and discouraged residents, because everything changes when Gus and Sally find each other. But how could that possibly make the decrepit bandshell look new, put the antlers back on the poor, abused bronze elk?
Coming 15 August 2014, from Uncial Press
and available at practically every ebookseller on the planet.
Subscribe to my Low-Calorie-Now-And-Again newsletter.
and get the latest word about Upcoming Books,New Releases,
Good Things to eat,
and the occasional Useless Datum.
Or follow me on Facebook, where I post whenever I have something to say, which isn't every day.